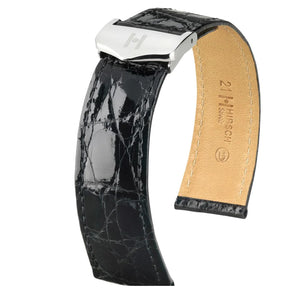 CHARACTER
A masterpiece of craftsmanship with extraordinary attention to detail.
This is a genuine Hirsch Savoir Cartier Compatible Leather Watch Strap. It features a  Cartier style- double wrap deployment clasp and double wrap deployment strap- no loops, no holes,double boat tip- non padded.

Please note the image is for illustration purposes only and may not represent the actual size of the strap 
MATERIAL
Fibre-deep barrel-dyed Louisiana Alligator flank with oval grain pattern and slightly raised scales; elegant two-tone and silky shine
HIRSCH Silkglove Lining leather
STRAP DETAILS
Watch strap is made using similar tooling to what is used for genuine CARTIER straps
Watch Strap is compatible with CARTIER Clasps/Buckles
HIRSCH folding buckle design Medium padding
HIRSCH Boat tip
Round functional holes
Either contrasting or tone on tone backstitched seam
Cross seam on the buckle attachment
Unique stainless steel folding buckle in HIRSCH Magic design comes included


SPECIFICATION
Upper Leather:Genuine Alligator Leather
Lining Leather: Silkglove Lining Leather
Strap Length; Long - 100mm/100mm
Comes complete with Hirsch Stainless Steel buckle and Spring Bars.
Strap pictured is 21mm in width


STRAP SIZE GUIDE
Watch End
Buckle End
Thickness
(Watch End)
Thickness
(Buckle End)
Length
12mm
10mm
2.8mm
1.4mm
L
17mm
16mm
3.1mm
1.4mm
L

**Product may differ slightly to image**